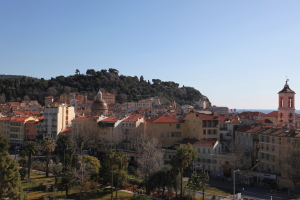 The Old Town of Nice, is situated right on the Baie des Angles, one of the most beautiful bays in France, with beaches streching for 7km sloping into the azure-blue Mediterranean. It was a favourite haunt of Queen Victoria, partly due to its exceptional sunny climate. The Old Town is steeped in history, has picturesque narrow maze-like streets and an authentic, lively atmosphere with provençal market stalls by day and live music on summer nights.
Here, one can truly enjoy the romance of the French art of living ('joie de vivre'). A morning stroll through the local provençal flower/fresh produce market offers a wonderful moment of pleasure for all the senses. Enjoy your 'petit dejuner'(breakfast) at one of many local patisseries, followed by a dip in the Med, a long lunch while soaking up the sun on one of the many café terraces. Then enjoy an afternoon stroll among the local specialty shops in cobbled alleyways or along the beachfront Promenade des Anglais before treating yourselves to dinner at one of the numerous fabulous french restaurants.
For culture vultures, Nice is second only to Paris in France in its number of museums, and boasts many festivals, cinemas and theatres hosting operas, ballets and orchestral performances. Sporty types, can take lovely scenic walks, cycles, runs and view international sporting events while foodies can hone their skills at local french cooking schools.
Located in the heart of the French Riviera, Nice is the ideal base for exploring the stunning Côte d'Azur. It offers a fabulous, inexpensive public transport system that makes exploring the famous neighbouring towns of Cannes, Monaco, Antibes, Eze, St Paul de Vence, Villefranche-sur-Mer, Cap Ferrat and even Vintimille in Italy a short train or bus journey away. Take a day trip into the stunning countryside for mountain walks, visiting hill top medieval villages, and even skiing. You can also venture by boat to prisitne offshore islands. All while knowing that you can return to the comfort of Moulin-sur-Mer.